Altimmune to Announce First Quarter 2019 Financial Results on May 15
May 8, 2019 at 8:00 AM EDT
GAITHERSBURG, Md., May 08, 2019 (GLOBE NEWSWIRE) -- Altimmune, Inc. (Nasdaq: ALT), a clinical-stage immunotherapeutics company, today announced that it will announce financial results for the first quarter ended March 31, 2019 before the market open and host a conference call on Wednesday, May 15, 2019.
About Altimmune
Altimmune is a clinical-stage immunotherapeutics company focused on the development of products to stimulate robust and durable immune responses for the prevention and treatment of disease. HepTcell is a synthetic peptide immunotherapeutic candidate designed to break immune tolerance in chronic Hepatitis B infection. ALT-702, a TLR-7/8 agonist conjugate, is an immunostimulant product candidate that has the potential to safely elicit or improve immune responses in a variety of therapeutic settings. NasoVAX, our influenza vaccine candidate, has unique characteristics that stimulate multiple arms of the immune system and offers the potential to stop infection and the spread of flu, while being easier to administer through an intranasal spray. NasoShield is a next-generation intranasal anthrax vaccine candidate that is intended to improve protection and safety while having favorable dosage and storage properties compared to other anthrax vaccines. By leveraging the complementary attributes of its proprietary technology platforms, Altimmune is able to design and develop immunotherapeutic products tailored to address a wide range of disease indications including both acute and chronic infections and cancer.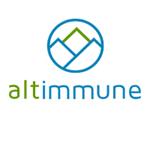 Source: Altimmune, Inc.