Altimmune Appoints Raymond Jordt as Chief Business Officer
January 4, 2023 at 7:30 AM EST
Mr. Jordt brings over 25 years of industry experience in corporate strategy and business development
GAITHERSBURG, Md., Jan. 04, 2023 (GLOBE NEWSWIRE) -- Altimmune, Inc. (Nasdaq: ALT), a clinical-stage biopharmaceutical company, today announced the appointment of Raymond Jordt as Chief Business Officer, effective January 1, 2023. Mr. Jordt succeeds José Ochoa, who is leaving Altimmune to pursue other opportunities.

Mr. Jordt is an accomplished executive with over 25 years of experience in the pharmaceutical industry. He joins Altimmune from Eli Lilly and Company, where he spent nearly two decades in various corporate and business development roles, most recently as Head of Transactions. During his tenure at Lilly, he led acquisitions, in/out-licensing, divestitures, collaborations, options and equity investments with biotech and pharma at all stages of development. He has worked across multiple therapeutic areas, including obesity, diabetes, CNS, immunology, dermatology and pain. His efforts led to four approved products and reshaped the portfolios of key business units. Mr. Jordt received an M.B.A. from the University of Indiana, an M.S. in Biomedical Engineering at the University of Memphis and a B.S. in Biomedical Engineering from Arizona State University.
"We are excited to welcome Ray to Altimmune and our executive management team. His extensive experience in corporate strategy and business development will help ensure the company's continued success," said Vipin K. Garg Ph.D., President and Chief Executive Officer. "This is the ideal time for Ray to join our team as we accelerate the clinical development of pemvidutide, a potential best-in-class treatment for obesity and NASH, and HepTcell, an exciting immunotherapeutic for chronic hepatitis B. I would like to thank José for his past contributions and wish him well in his future endeavors."
"I am delighted to be joining the Altimmune team and look forward to building on their recent success," added Mr. Jordt, "The impressive results to date with pemvidutide along with the upcoming 2023 data readouts position Altimmune to deliver first-in-class therapeutics for obesity, NASH and hepatitis B. I have a great deal of enthusiasm for the pipeline, as well as the vision and mission of Altimmune. I look forward to working with the team to realize the full potential and value of its product pipeline."
About Altimmune
Altimmune is a clinical-stage biopharmaceutical company focused on the development of novel peptide-based therapeutics for the treatment of obesity and liver diseases. The Company's lead product candidate, pemvidutide (ALT-801), is a GLP-1/glucagon dual receptor agonist that is being developed for the treatment of obesity and NASH. In addition, Altimmune is developing HepTcell™, an immunotherapeutic designed to achieve a functional cure for chronic hepatitis B. For more information, please visit www.altimmune.com.
Follow @Altimmune, Inc. on LinkedIn
Follow @AltimmuneInc on Twitter
Investor & Media Contacts:
Rich Eisenstadt
Chief Financial Officer
Phone: 240-654-1450
reisenstadt@altimmune.com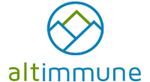 Source: Altimmune, Inc