Altimmune Completes Enrollment in Phase 2 Clinical Trial of HepTcell™, an Immunotherapeutic for Chronic Hepatitis B
April 11, 2023 at 7:30 AM EDT
GAITHERSBURG, Md., April 11, 2023 (GLOBE NEWSWIRE) -- Altimmune, Inc. (Nasdaq: ALT), a clinical-stage biopharmaceutical company (the Company), today announced that it has completed enrollment in its Phase 2 clinical trial of HepTcell, an immunotherapeutic for the treatment of chronic hepatitis B (CHB). With the achievement of this milestone, data readout is planned for the first quarter of 2024.

The multicenter clinical trial, which is being conducted at 26 sites in North America, Europe and Southeast Asia, enrolled approximately 80 subjects with inactive CHB and low levels of hepatitis B surface antigen (HBsAg). Subjects were randomized 1:1 to HepTcell or placebo. The primary endpoint of the trial is clinical response, defined as a 1-log or greater reduction in HBsAg. Secondary endpoints include changes in the levels of hepatitis B virus (HBV) DNA, pre-genomic RNA and other markers of virologic response.
"We are pleased to have achieved this milestone in the HepTcell Phase 2 trial and look forward to the data readout in Q1 2024," said Vipin K. Garg, Ph.D., President and Chief Executive Officer of Altimmune. "In addition, we look forward to initiating our Phase 2b biopsy non-alcoholic steatohepatitis (NASH) trial in mid-2023 and announcing topline data from our 48-week MOMENTUM obesity trial in the fourth quarter of 2023."
About HepTcell
HepTcell is a novel, investigational, immunotherapeutic comprised of nine synthetic peptides representing conserved HBV sequences adjuvanted with IC31®, a TLR9-based adjuvant from Valneva SE. The HBV-directed peptides are designed to drive T cell responses against all HBV genotypes towards a functional cure for chronic HBV in patients of diverse genetic backgrounds.
About Chronic Hepatitis B
According to World Health Organization estimates, CHB affects approximately 296 million worldwide, and over 800,000 people die annually of complications of the disease. If left untreated, CHB can lead to serious diseases including liver cirrhosis, liver failure and liver cancer. There is no cure for CHB, and currently available medications only control the disease without eradicating the infection.
About Altimmune
Altimmune is a clinical-stage biopharmaceutical company focused on the development of novel peptide-based therapeutics for the treatment of obesity and liver diseases. The Company's lead product candidate, pemvidutide, is a GLP-1/glucagon dual receptor agonist that is being developed for the treatment of obesity and NASH. In addition, Altimmune is developing HepTcell™, an immunotherapeutic designed to achieve a functional cure for CHB. For more information, please visit www.altimmune.com.
Follow @Altimmune, Inc. on LinkedIn
Follow @AltimmuneInc on Twitter
Forward-Looking Statement
Any statements made in this press release relating to future financial or business performance, conditions, plans, prospects, trends, or strategies and other financial and business matters, including without limitation, the timing of key milestones for our clinical assets, the timing of the data readouts of the HepTcell trial and the MOMENTUM obesity trial, the timing of the initiation of the Phase 2b NASH trial and the prospects for regulatory approval, commercializing or selling any product or drug candidates, are forward-looking statements within the meaning of the Private Securities Litigation Reform Act of 1995. In addition, when or if used in this press release, the words "may," "could," "should," "anticipate," "believe," "estimate," "expect," "intend," "plan," "predict" and similar expressions and their variants, as they relate to Altimmune, Inc. may identify forward-looking statements. The Company cautions that these forward-looking statements are subject to numerous assumptions, risks, and uncertainties, which change over time. Important factors that may cause actual results to differ materially from the results discussed in the forward looking statements or historical experience include risks and uncertainties, including risks relating to: delays in regulatory review, manufacturing and supply chain interruptions, access to clinical sites, enrollment, adverse effects on healthcare systems and disruption of the global economy; the reliability of the results of studies relating to human safety and possible adverse effects resulting from the administration of the Company's product candidates; the Company's ability to manufacture clinical trial materials on the timelines anticipated; and the success of future product advancements, including the success of future clinical trials. Further information on the factors and risks that could affect the Company's business, financial conditions and results of operations are contained in the Company's filings with the U.S. Securities and Exchange Commission, including under the heading "Risk Factors" in the Company's most recent annual report on Form 10-K and our other filings with the SEC, which are available at www.sec.gov.
Investor & Media Contact:
Rich Eisenstadt
Chief Financial Officer
Phone: 240-654-1450
reisenstadt@altimmune.com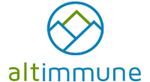 Source: Altimmune, Inc