Altimmune to Participate in the Healthcare Virtual Conference Presented by Maxim Group LLC and hosted by M-Vest on Tuesday, June 20th, 2023
June 16, 2023 at 7:30 AM EDT
GAITHERSBURG, Md., June 16, 2023 (GLOBE NEWSWIRE) -- Altimmune, Inc. (Nasdaq: ALT), a clinical-stage biopharmaceutical company, today announced that Dr. Scott Harris, Chief Medical Officer at Altimmune, has been invited to participate on a Metabolic panel at the Healthcare Virtual Conference Part II, presented by Maxim Group LLC and hosted by M-Vest, on Tuesday, June 20th, 2023 at 11:00 A.M. ET.
Details for the panel discussion are as follows:
| | |
| --- | --- |
|  Title:  | Oh! Oh! Ozempic – Metabolics are in Focus |
|  Panelist:  |  Scott Harris, M.D., Chief Medical Officer, Altimmune, Inc.  |
|  Date/Time:  |  Tuesday, June 20, 2023 at 11:00 am ET  |
This conference will be live on M-Vest. To attend, just sign up to become an M-Vest member.
Click Here to Reserve your seat
About the Maxim Group LLC Virtual Healthcare Conference
The exponential growth in knowledge and expertise in science and medicine continues to drive opportunities in the healthcare space. These include multiple therapeutic categories and emerging technologies, which presenting companies at this year's Maxim Healthcare Conference are focused on, and for many, that includes key data-driven events in 2023. Maxim Senior Analysts will host a wide range of biotechnology and medical device companies in a series of presentations and interactive discussions with CEOs and key management. Maxim will also be hosting several topical industry panels that promise to be timely and engaging.
About Altimmune
Altimmune is a clinical-stage biopharmaceutical company focused on developing innovative next-generation therapeutics for the treatment of patients with liver diseases and obesity. The Company's lead product candidate, pemvidutide, is a GLP-1/glucagon dual receptor agonist that is being developed for the treatment of obesity and NASH. In addition, Altimmune is developing HepTcell™, an immunotherapeutic designed to achieve a functional cure for chronic hepatitis B. For more information, please visit www.altimmune.com.
Follow @Altimmune, Inc. on LinkedIn
Follow @AltimmuneInc on Twitter
Investor & Media Contacts:
Richard Eisenstadt
Chief Financial Officer
Phone: 240-654-1450
reisenstadt@altimmune.com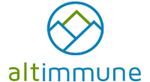 Source: Altimmune, Inc